Dental health research going back well over the past fifty years has consistently concluded that the use of implants creates significantly better quality of life outcomes compared to older and more conventional treatments like dental bridges, partial dentures, or full dentures. Patients who elected to receive implant dental crowns or dentures over removable ones perceived their oral health to be better than patients with conventional treatments did, on average.
Patients with implants report that they look and feel like their natural teeth. As a result, this makes such basic activities like smiling, talking, and eating feel natural.
The Advantages of Dental Implants over Removable Appliances
Convenience and cost are important considerations as well. While implant surgery can be an investment, many implants can be expected to last a lifetime, assuming that the patient takes ideal care of them. Dental implants can be made of stronger materials and have no moving parts. Furthermore, they are less likely to break from accidents.
Unlike removable devices like partial or full traditional dentures, implants are rooted into the jawbone, much like a real tooth. Because they do not rely on your gums for support, they do not cause the kind of discomfort and tooth damage that removable dentures and bridges often do. They have a number of other advantages over other tooth-replacement solutions including:
Implants halt jawbone loss.
They restore the natural curve of your jawline.
They look like real teeth making your smile look much more natural.
They do not rely on other existing teeth for support.
They do not need to be removed every night.
Implants, Implant-Supported Dentures and Crowns
You might not be familiar with all the terminology of implants, but the basic things to know are what we mean by implant, implant crown, and implant-supported denture. The dental implant itself is the part that goes into the jaw bone, much like a "man-made root". An abutment works as a connector between the implant and the crown that goes on top.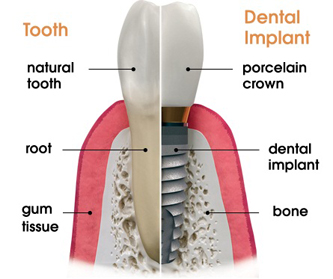 An implant crown restores a single tooth back to full function and esthetics. However, using a single crown to replace a full set of teeth would be costly and time-consuming. Implant-supported dentures, also known as fixtures, can be affixed to your jawbone with only a few implants. They still provide the full benefits of individual crowns, but are a much more efficient way to replace many teeth at one time.
Dr. Alkesh Sura and our team have years of experience handling all aspects of dental implant surgery from x-rays and initial consultations to implant restorations to post-treatment care. If you need tooth replacement services in the Cedar Park and surrounding areas, contact us and schedule an appointment.